If complex trades hands below expectations, it could trigger a ripple effect across the market
Get the latest from Barbara Shecter straight to your inbox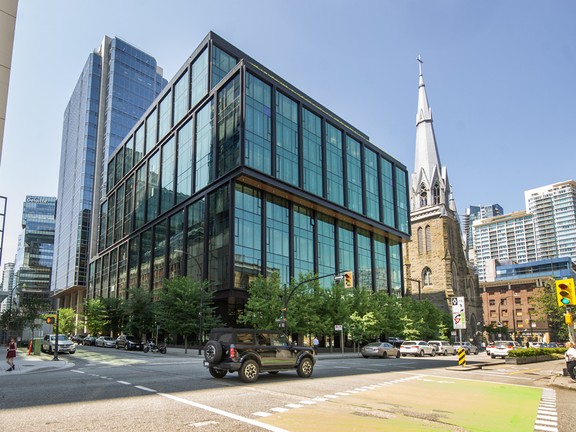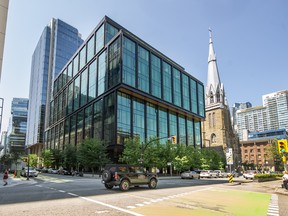 Article content
An attempt to sell a pair of office towers in downtown Vancouver is being carefully watched by the commercial real estate world, and not just because Amazon.com Inc. is one of the primary tenants.
Article content
The Canada Pension Plan Investment Board and Oxford Properties, the real estate arm of the Ontario Municipal Employees Retirement System, are reportedly planning to unload the neighboring towers on Dunsmuir and West Georgia Street, according to a Bloomberg report on June 27, which said the sellers hope to fetch $350 million.
Article content
Ray Wong, vice-president of data solutions at Altus Group, a provider of asset and fund intelligence for commercial real estate, said the sale and rumored price tag are attracting a lot of attention because the prime office complex is on the block as the broader office markets across the country struggle in the face of rising interest rates and persistently higher vacancies due to remote work.
Article content
If the Vancouver complex trades hands below expectations, market watchers say, it could trigger a ripple effect across the market.
"That's going to be the real test of where the office values ​​are," said Wong. "It is a brand-new building, right downtown, close to all the amenities, great tenants — so it's going to be interesting to see what type of sale price that building goes for."
Sales of premium office buildings have been scarce of late, especially since the US banking crisis brought deeper scrutiny of the commercial real estate sector earlier this year. Publicly traded office holdings have already seen their values ​​plunge on speculation that the sector is in trouble, but private and institutional investors have yet to take the same writedowns, in part because of a dearth of comparable sales from which valuations can be derived.
Article content
Wong said the last large downtown sale was in 2021 when Oxford sold RBC Plaza in Toronto to billionaire and Zara retail clothing chain owner Amancio Ortega for $1.2 billion, a transaction that closed in early 2022. Since that deal was struck, valuations for office real estate in the public markets through real estate investment trusts have slid and are now 50 to 60 per cent lower than pre-pandemic levels.
The private market is still behind in properly valuing office buildings today

Carl Gomez
REITs tend to hold lower quality office buildings in Canada than pension funds, said Carl Gomez, chief economist at commercial real estate analytics company CoStar, but there is nonetheless "a big disconnect" between public and private valuations for the assets when it comes to assessing both the impact of remote work and higher debt servicing costs are driven by interest rate hikes.
Article content
Gomez isn't sure the Vancouver building occupied by Amazon will fetch the price the pension funds that he himself is said to be seeking.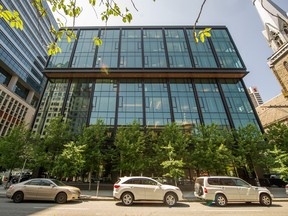 "I would expect that as sellers they want a fulsome price, but … there are few barometers of what the valuation should be and what potential buyer expectations are for this type of product these days," he said.
"I think the private market is still behind in properly valuing office buildings today."
Gomez told the Financial Post in April that he is expecting a reckoning in private market valuations since remote work has proved to be a lasting trend rather than a short-term pandemic-driven event, a view he still holds.
But he noted that Canada's large pension plans are well capitalized, so they have the wherewithal to be patient and flexible when it comes to managing their large real estate portfolios, even if they would like to reduce their exposures to underperforming segments of the market including office towers and retail complexes.
Article content
Better to sell your best in this environment than sell your worst and face added scrutiny

Carl Gomez
He said it was noteworthy that Oxford and CPPIB selected the fully leased and upgraded Amazon-occupied tower in what could be a pivotal transaction, Gomez said, adding that Vancouver is a city "where office market performance, while weaker, has been better than the rest of the country."
"Better to sell your best in this environment than sell your worst and face added scrutiny," he said.
The societal shift to hybrid and remote work has put hundreds of billions of dollars at stake, according to a July 13 report by international consultant McKinsey Global Institute.
In major cities around the world, office attendance has stabilized at 30 per cent below pre-pandemic levels, and is unlikely to return for decades, the report said, adding that "falling demand will drive value down."
Article content
In the nine cities studied including New York, San Francisco, London and Tokyo, US$800 billion in value is at stake by 2030 in a moderate scenario in which the total value of office space declines by 26 per cent from between 2019 and 2030. In a more severe scenario modeled by the consultancy, the value of office space plummets by 42 per cent.
"The impact on value could be even stronger if the compound's interest rates rose," the McKinsey report said.
The impact on value could be even stronger if rising interest rates compound it

McKinsey Global Institute reports
Global real estate advisor Avison Young in a spring report said that while vacancies in downtown Vancouver had climbed above 10 per cent for the first time since 2004, some newer office towers whose higher floors featured perks such as mountain views and private terraces had higher occupancy due to a "flight-to-quality" trend.
Article content
Elizabeth Bell, a principal specializing in real assets investment at private market fund manager Hamilton Lane, reached a similar conclusion in a June 7 report that said there is variance based on the individual property type within the office sub-sector, with Class-A office buildings continuing to hold up "much better than the dislocation we have seen in a traditional commodity office."
However, if the trends in private office transactions follow public market revaluations of office real estate, transaction prices will begin to reflect an increase in a metric closely watched by the industry called the cap rate. Prices for commercial real estate come down as the cap rate, which reflects financing costs and rents coming from occupancy, goes up.
Article content
If the Vancouver office complex was sold by Oxford and CPPIB with a cap rate higher than the average four to five per cent downtown office cap rate of a couple of years ago, "it would definitely signal a revaluation of office (real estate) in Canada ," said Gomez.
Recent transactions in the US, where market fundamentals including for lenders are arguable worse, the cap rate has risen to eight per cent, he said. In a scenario where a seller hopes to get $350 million for an office complex based on past assumptions of a cap rate of four per cent, but the market assesses the cap rate at eight per cent, the drop in value is about 50 per cent, putting the sale price at $175 million.
"This is just an example of how things work since its theoretical," he said, adding that cap rates may not be revealed in every deal because buyers and sellers may not want to publicly disclose the building's net operating income based on rents and costs, which is part of that calculation.
Why mayors, economists and your neighbors want you back in the office

Offices were already emptying before the pandemic

Commercial real estate investors are cautious amid office vacancies
"Either way, the market will then take an educated guess as to what the cap rate for the deal would be given the price of the transaction and what they think NOI (net operating income) is," Gomez said.
"That's why this trade will have all eyes on it."
• Email: [email protected] | Twitter: BatPost