For those who like to look back fondly at ancient history and remember what used to be, I present to you the local Case-Shiller Index. About the time that the market starts to sputter in mid-to-late summer, we will be getting the spring data that will look red hot.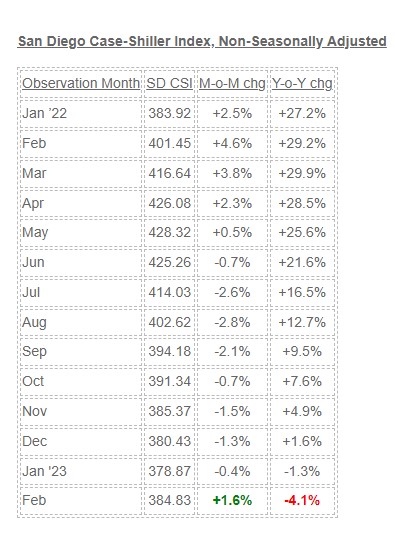 "The results released today pre-date the disruptions in the commercial banking industry which began in early March. Although forecasts are mixed, so far the Federal Reserve seems focused on its inflation-reduction targets, which suggests that interest rates may remain elevated, at least in the near-term. Mortgage financing and the prospect of economic weakness are therefore likely to remain a headwind for housing prices for at least the next several months."
https://www.spglobal.com/spdji/en/index-announcements/article/sp-corelogic-case-shiller-index-declines-moderated-in-february/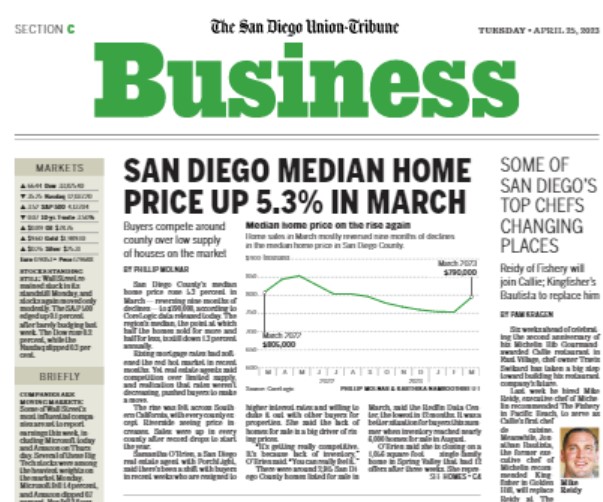 San Diego County's median home price rose 5.3 percent in March — reversing nine months of declines — to $790,000, according to CoreLogic data released today. The region's median, the point at which half the homes sold for more and half for less, is still down 1.3 percent annually. Rising mortgage rates had softened the red-hot market in recent months. Yet real estate agents said competition over limited supply, and the realization that rates weren't decreasing, pushed buyers to make a move.