With prices creeping up and inventory dwindling, searching for a home on a single income can be daunting. However, the formidable task is made endlessly easier if you set your sights on the more affordable apartment market, and you know where to look.
A new study from Zoocasa seeks to determine which Canadian markets are the most, and least, affordable for single-income apartment buyers.
Using March 2023 benchmark prices from the Canadian Real Estate Association (CREA), Zoocasa calculated the minimum down payment required for an apartment in 15 cities across Canada.
The real estate agency then compared the results with the median after-tax income for single-person households, which was sourced from Statistics Canada, and calculated how many months it would take to save for a downpayment in each city if such a buyer saved 100 % of their income.
READ: Down Payments For Surrey Houses, Burnaby Condos Up More Than 250% From 2020
Of the 15 markets analyzed, the five most affordable for single-income apartment buyers are located in the prairie provinces. Meanwhile, the five least affordable are found in British Columbia and Ontario.
With a benchmark apartment price of $183,100 and a median after-tax income of $42,800, Edmonton was deemed the most affordable city for single-income buyers. It would take just 2.6 months to save the $9,155 required for a minimum down payment in Alberta's capital city.
Regina followed, with single-income buyers, who made $42,400, needing to save for 2.9 months to afford the $10,410 down payment required for a benchmark apartment, which cost $208,200.
With a median income of $40K, it would take single-income buyers in Saskatoon 3.4 months to save the $11,275 required for a down payment on a benchmark apartment, which costs $225,500.
In contrast, single-income buyers in Vancouver and Toronto need to save for more than a year to afford the down payment on a benchmark apartment.
A minimum downpayment of $48,740 is required in Vancouver, where a benchmark apartment costs $737,400. However, the median single-household income is $42K, meaning buyers would have to save for 13.9 months.
Single-income buyers in Toronto, who make $41,200, need to save for 13.2 months to afford the minimum down payment of $45,370 that's required for the benchmark apartment, which costs $703,700.
Victoria, Fraser Valley, and Hamilton round out the top five least affordable cities, with buyers needing to save for 9.2, 9, and 8.3 months, respectively, to afford a benchmark apartment.
Nationally, it would take a single-income buyer 9.1 months of saving their entire after-tax salary to afford the minimum downpayment on a benchmark apartment.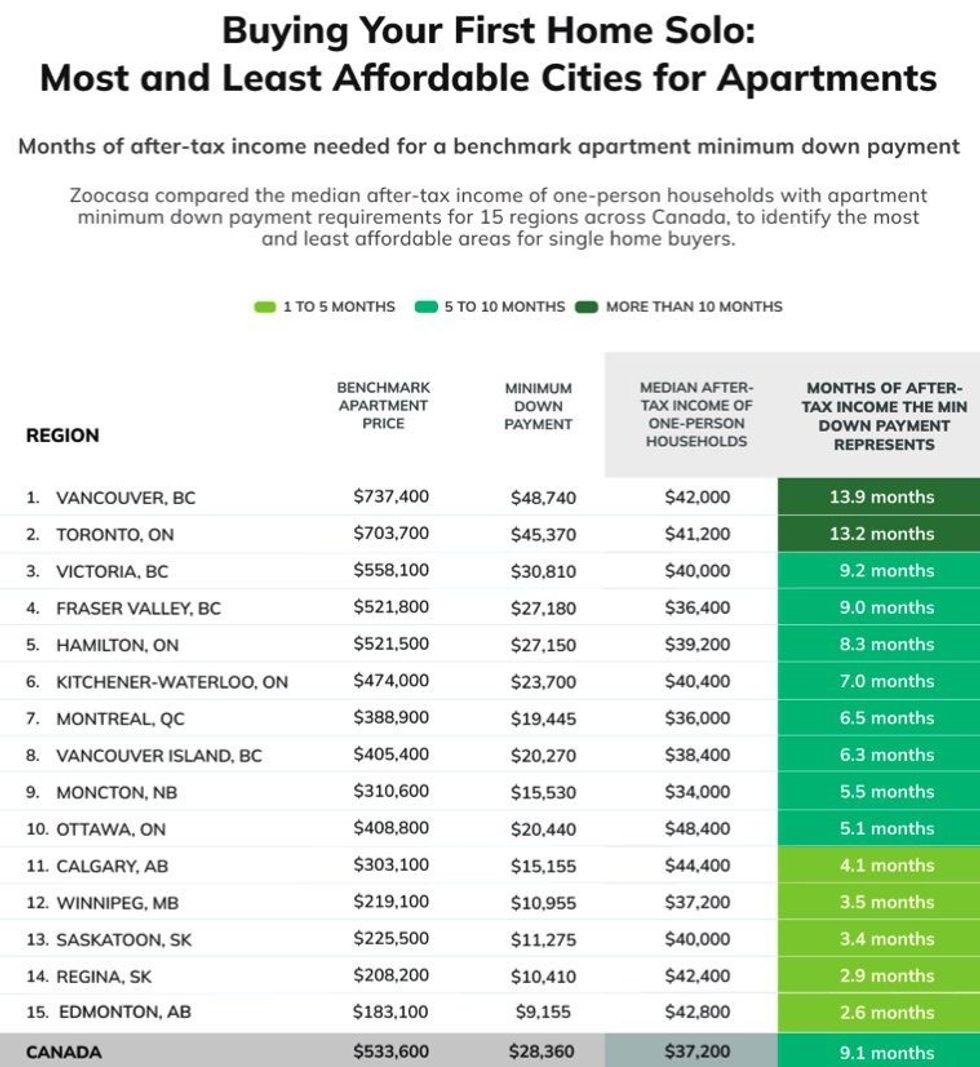 Zoe Demarco is a Staff Writer at STOREYS and was formerly the Urbanized Editor at Daily Hive. Born and raised in Toronto, she has a passion for the city's ever-changing urban landscape.
More From Author