When is a pre-sale condo not a pre-sale condo? When sales don't launch until after construction has completed. In a rare move, Vancouver-based Shape Properties is doing exactly that with one of their upcoming condo towers, as the developer announced earlier this month that it is holding sales until post-construction.
The project is Tower Three of their 37-acre "City of Lougheed" master-planned community, located at the intersection of Austin Avenue and North Road, on the Burnaby side of the boundary with Coquitlam and adjacent to the City of Lougheed Shopping Center ( formerly known as Lougheed Mall).
The overall site is expected to see over 10,000 homes across 20 residential towers, as well as 1.3 million sq. ft of retail space (615,000 sq. ft of which includes the existing shopping center) and 1 million sq. ft. of office space.
It's all scheduled to unfold across several phases, with the first phase expected to be fully completed this year. Tower Four — the only rental building of the first phase — was actually the first to complete, with move-ins beginning this past September. Brenda Parris, the Vice President of Residential Marketing for Shape Properties, tells STOREYS that Tower One and Tower Two have both been 100% pre-sold and are expected to be completed this summer as well.
Tower Three, on the corner of Austin Avenue and North Road, is the tower that's taking the rare approach, with construction expected to be completed in July and sales of the 262 units launching shortly after.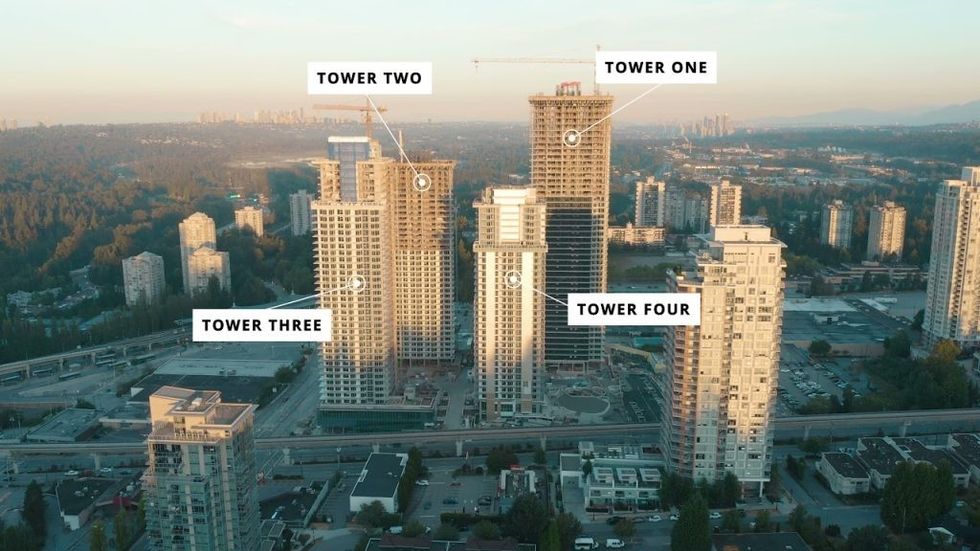 It's extremely rare, but it's not something that's never been done before. Another example is Aragon Properties' Timber House project in New Westminster, a collection of 87 homes constructed primarily with cross-laminated timber. Construction of Timber House is set to be fully completed soon, with sales having now launched and the house ready for occupancy within the next 60 days.
Aragon has actually used this post-construction condo sales strategy a number of times, with Founder and President Lenny Moy telling STOREYS that they've taken this approach, also referred to as "building on spec," for most — approximately 30 — of their projects since 1996, which typically launch around 30 days prior to occupancy. He adds that Aragon was not the first developer to do so, and there have been various one-offs, but he isn't aware of any other developer who has taken this approach as consistently as Aragon has.
The Ins and Outs of Post-Construction
One of the biggest reasons developers use the pre-sale strategy is because the financing they need for construction is often tied to pre-sales hitting certain thresholds — hence why sales for most development projects launch pre-construction and not during construction.
"They don't have the money they need, so they need to borrow the money from the bank, and then pre-sale [if it reaches a certain level] is a signal to the bank that the project is viable," says Mike Stewart, a realtor with Vancouver New Condos.
The risk with holding sales until post-construction, then, is obvious: what if we build it, and no one comes? Prior to the City of Vancouver's recent decision to amend its Empty Homes Tax and exempt developers holding onto unsold units, developers could have also seen a not-insignificant tax bill if sales didn't go as well as they projected.
Because of these realities, not every developer can take the post-construction approach to condo sales, even if they want to. "The developers who can get away with it are the ones that are more established who have the confidence of the construction lenders," Moy said.
"Established" doesn't necessarily equate to "big" in this case, although it's often bigger developers that can do this. Shape Properties, for example, specializes in large-scale mixed-use developments centered around shopping centers in city cores, such as The Amazing Brentwood in Burnaby, whereas most of Aragon's projects are low-rise or medium-rise projects in city outskirts.
"Generally speaking, the first or second or third time doing multi-family projects, the banks generally aren't going to allow you to do that because they want pre-sales to establish the credit-worthiness of the project," said Moy. "There is a certain track record required to do projects on spec."
Moy adds that lenders also make "a clear delineation" between project sizes: concrete construction over eight storeys is typically considered a high-rise, whereas woodframe construction up to six storeys is considered a low-rise, although the definitions can vary depending on where you are and the lender.
"[Lenders] have a risk profile associated with high-rise projects, and with high-rise projects, they will generally not allow anybody to build on spec, because they are larger, and typically require a minimum of something like 40% of pre-sales in order for them to finance your project, depending on your credit-worthiness, but we've been able to do some projects on spec even though it's high-rise."
Those with a good track record with the approach can also secure tangible benefits. "There are Schedule A lenders and there are secondary lenders," Moy says. "We have a good track record, so we only deal with our two primary lenders, the Bank of Nova Scotia and the Royal Bank of Canada, and don't need to deal with the credit unions and other lenders that may charge a higher interest rates."
Meanwhile, for Shape Properties, Parris says that they were able to take the post-construction approach for their high-rise project because the entire City of Lougheed project is co-owned with TD Asset Management, and that they were able to leverage the success of Tower One and Tower Two sold out.
READ: Foreclosure Date Set for Coromandel Properties Alberta Street Project
The Pros and Cons of Post-Con
Business often boils down to risk versus reward, so if those are the risks, what are the rewards?
"If developers have their own money," says Stewart, "they may not want to pre-sale, because — particularly in a rising market — the later you sell the property, the more money you make [from appreciation]. If I pre-sale something in 2010 and it completes in 2015, maybe I pre-sale it in 2010 for $300,000 and then in 2015 that same property is worth $450,000. If I'm the developer and I can hold it until completion, then I'm going to make way more money."
Moy says that for Aragon, "it forces us to be a better builder, because what I have to do is envision what the final project looks like, and make sure it doesn't have some of the flaws that you can get away with with pre-sales, because people are walking through your home and seeing everything you're doing right or wrong."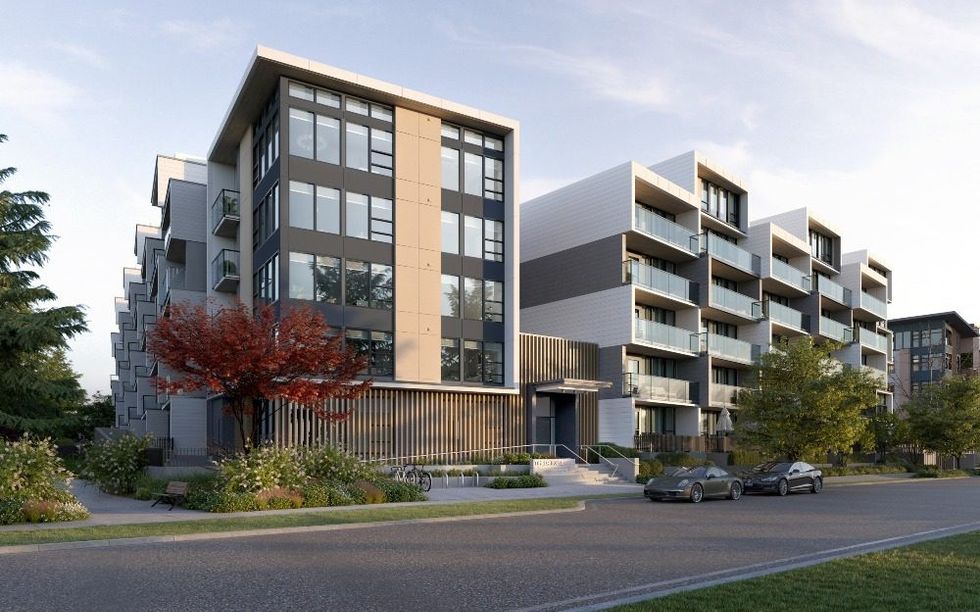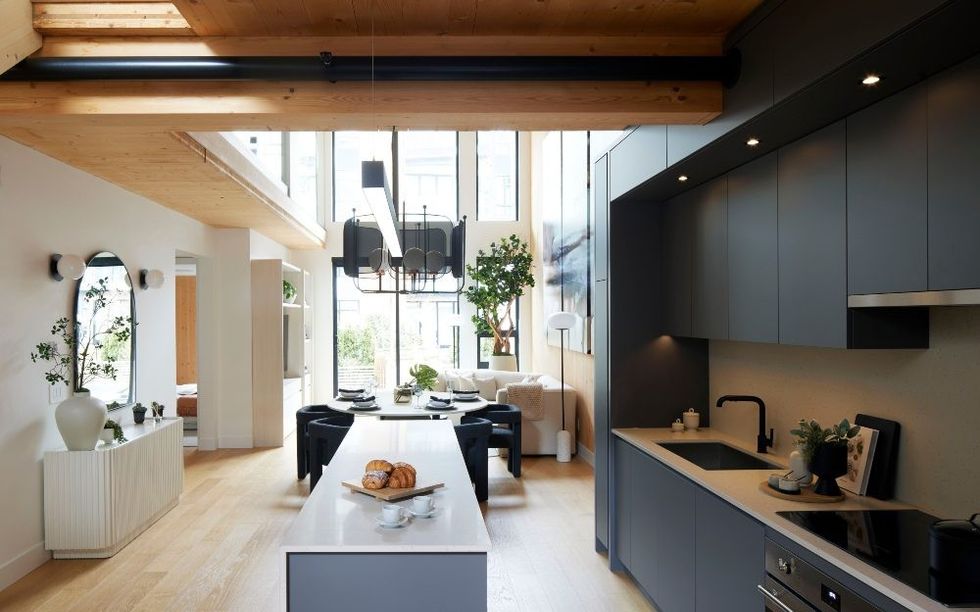 He added that while Aragon has a good track record with post-construction, there is still some risk, and they can still be affected by the market. "When it does slow down, obviously our sales will slow down too, and there is a risk that if the market slows down too much, then we'll suffer more, because we have standing inventory and there's extra carrying costs," Moy says.
There are also benefits for consumers — some obvious, and some perhaps less so.
"There won't be any surprises, not only in their home, but also in the development itself. They can see the amenities and they can see their neighbors," Moy says. "The benefit is you know what you're getting."
Parris says that most buyers are limited to making commitments five or six years out, but with the post-construction approach, they don't, and can select from the entire building and see things such as the color scheme and orientation up close, which gives them more choices than they'd see with pre-construction condo sales.
A bigger-picture benefit for the community is also that this post-construction approach typically means that construction on the project can begin quicker, since developers do not have to wait until they hit certain pre-sale benchmarks in order to begin construction, bringing new supply to the market a bit faster, which, in a region like Metro Vancouver, is always a welcome sight.
This article has been updated to reflect timing changes for Timber House.